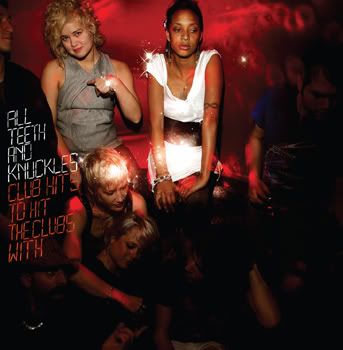 Last Night I was out and about in the Mission with a friend and it seemed that we both had made vows to our mutually exclusive friends about 'stopping by' while in the neighborhood. It seems that with each passing day, we hear expressions like 'I'll stop by' or 'I'll definitely try to make it', and know the conversation between the inner and outer voices as if it were the voices of David Addison and Maddie Hayes. Truly, I can't point fingers. I'm often guilty as charged, but I really like to surround myself with people who truly make the effort to keep their word. Only good things can come of it.

So, as we galavant through the city and meeting each others' friends, I am introduced to Ed "UFO" who was about to spin a set at Beauty Bar and is talking to me about his band, All Teeth and Knuckles. He describes it to me with references to Beastie Boys meets CSS, Faint (and others) with heavy drum beats (I may be misquoting but that was the jist; in any case it sounded interesting) so, in my inebriated state, I told him I would listen to it and write about prior to their headline set at Mezzanine on August 2nd (cue Willis and Shephard... I didn't even think I'd remember the name of the band). So, my long-winded point is: I'm keeping the promise... and my reward for doing so is a new favorite dance album.

The core sound of ATAK is electronic, but from there it explores the integration of styles from disparate genres like punk and old school rap while still maintaining originality and consistency from track to track. What it promises is that you WILL shake your ass wherever you are listening to it.

One last item that I've been dying to mention. I think one of the greatest song titles of all time is a track from one of my new favorite bands, CSS and the track title, "Let's Make Love And Listen to Death From Above". Brilliant, right? Well one of 10 tracks that will be on the ATAK upcoming release, "Club Hits to Hit the Clubs With" has an homage to the emerging Brazilian band with a track titled, "Let's Undress and Listen to CSS". That's just aces, ain't it?

Don't miss this show on August 2nd at Mezzanine. $8 at the door. First 100 guests get a free copy of the new album, "Club Hits to Hit the Club With"


"All teeth and Knuckles"
allteethandknuckles


Share on Facebook